Custom Window Seat Cushions
Custom Window Seat Cushions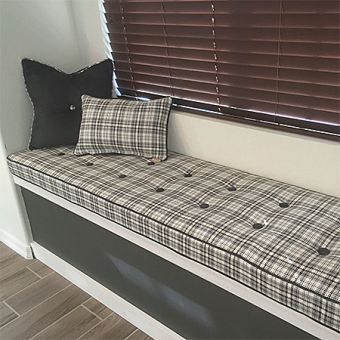 Window seat cushions always make looking out a window and soaking up the sun more stylish and comfortable. These cushions are necessary pieces that add a coziness to any window seat, bedroom nook, or breakfast area. Since most window seat cushions will be exposed to sunlight for many hours of the day, it's necessary to select fade resistant fabric to block the sun's UV rays. Fabrics like Sunbrella and Outdura are ideal for window seat cushions and come in a wide variety of colors and patterns to satisfy your client. These fabrics provide a soft hand for comfortable indoor and outdoor living.
Our designer window seat cushions are custom-made and come with the choice of four fill options. Our Optimal Comfort inner fill is made with quality MicroGel Memory foam wrapped in batting which is then placed inside a waterproof ticking. This fill is the ultimate choice in luxury for both indoor and outdoor applications. We have two types of indoor fill, either an indoor standard foam fill or a deluxe indoor fill which has a layer of one inch cumulous batting on top and bottom of our standard foam to create a crowned look. Both are ideal for inside the home. We also offer a standard outdoor CumuPlush fill which allows water to drain through the cushion after a heavy downpour or our outdoor CumuPlush fill with cumulous batting placed on the top and bottom for extra loft. Both are ideal for outdoor living spaces.
Do you have a window seat with a unique shape?
If you have a window seat area that is unique in shape from what we offer online, you will need to send us a template. Our experienced workroom is able to make virtually any type of cushion but we do ask that you take accurate measurements to ensure you will get the ideal custom window seat cushion for your client. At Designer Custom Source, we aim to exceed your expectations and hope you experience only the best in high quality, made in America satisfaction.