This fall 2016 Pantone colors are a wealth of exotic tones and global views. Certainly not a boring selection. I thought I would concentrate on a few that I personally love! Potters Clay, Lush Meadow and Spicy Mustard are just several that I think will go wonderful in rooms this fall. These are not colors for the timid and shy. These are bold and beautiful hues for those that love color bling!
Lush Meadow
First up, Lush Meadow. This is a new way to look at emerald green. Its hue is certainly bold and makes a statement – not your typical organic grass green. Look for more finesse when you add this to spaces. Lush Meadow will make a great accent color for a wall, a pillow or home accents of glassware and lighting in this flavor of green.
This room is nothing but gorgeous! Cristi Holcombe Interiors has got it all together. The pops of this rich green on the pillows and large chevron draperies gives life to a neutral space. With more emphasis on botanical in fabrics and decor this season, this life giving color will deliver a hint of Irish lovely green to rooms.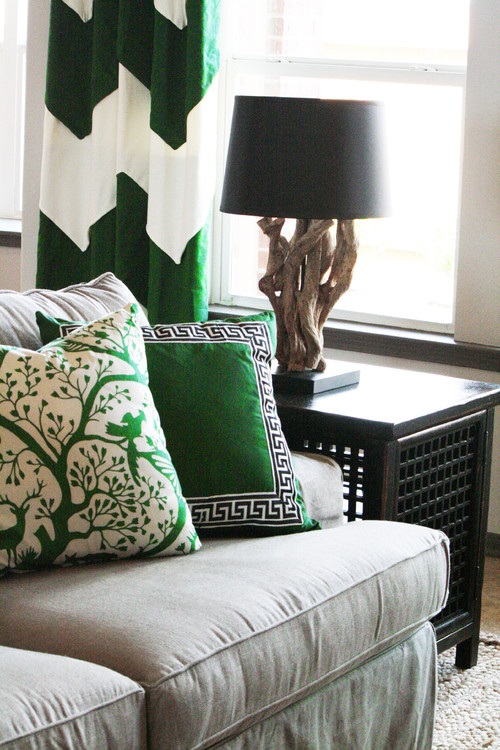 Potter's Clay
Next is Potter's Clay. This color is a rich terracotta and earthy tone that is being seen more as a all over the room color for walls, pillows, leather furnishings and rugs. Potter's Clay can act as a neutral base or accent so you are not limited.
Designer Shannon Malone brings an ethnic and spicy palette to this living area. I like the use of the terracotta colored paint stucco wall treatment. The patina aged brass framed inlay around the fire place with a touch of cayenne is unexpected and interesting. The velvet wing back chair just adds another layer of texture and softness which displays a more sophisticated view as well as warm and inviting.
Spicy Mustard
 Lastly is Spicy Mustard. When I look at this color I am inspired to make a tasty dish of curry. Yum! Spicy Mustard has that hint of yellow that is warm and bright without the glare of sunshine yellow. It's soft muted tone will look fabulous in many spaces of the home. I am always surprised at the versatility of this color. It can be paired with virtually any hue and still maintain a level of composure. Maybe it's because its golden tones remind us of happy things like sunsets, or the shiny gold metal that is precious and beautiful in jewelry.
 Interior designer Judith Balis gives a great example of how this color can play the supporting role or main role. This charcoal wall paper is stunning yet the worldly wisdom of this Spicy Mustard shade on the pillows and bedding just sets this bedroom up for traditional warmth and coziness. Two color shades that are so opposite – cool and warm – look undeniably amazing together.
Save
Save
Save
Save
Save
Save
Save
Save