If you are looking for a room makeover for the upcoming year then look no further. Modern design is going more Scandinavian. What is Scandinavian design and how do you get it? Scandinavian design is a very minimalist approach with its simple lines, flawless craftsmanship and wood work, and plenty of functionality. It is what some consider to fall into the category of mid-century modern but it truly has a style of its own. So what's the secret to turning Scandinavian Chic? Here are 6 ways to get you on your way!
Lots of Natural Wood on Walls, Flooring and Furnishings
Almost all homes in Sweden have wooden floors. There is no such thing as wall-to-wall carpet. Visually, the warmth of wood, area rugs and other soft goods in the home help provide coziness and relaxation for colder climates. However, if you don't have hard wood floors you can still achieve this look by adding wood in hand crafted accent pieces or furnishings. Replace traditional furniture with more modern wood pieces such as simple tables surrounded by Eames chairs or the infamous Womb chair which have been around since the 40s and 50s. Remember to keep items in a room to a minimum. A cluttered room is never a good thing in Scandinavian design.
2. Let there be Light and More light
Light is considered to be so important in Scandinavian design. Think about the Scandinavian dark winter months with few hours of daylight…so the more sunlight is allowed into a room, the better. Scandinavian homes are not big on window treatments because they enjoy letting the natural light stream in and merging the outdoors in. So don't be afraid to let the light into your rooms for a bright cheerful space.
3. Add the Color White on Walls

The starkness of white walls may turn some people off but it's a must in Scandinavia. Color is displayed through accent pieces. The white interiors is a necessity for those dark winters but it helps to brighten your spirits and set a positive mood; Not to mention gives a room an even larger perspective.
4. Colored Accents for Pop
If the walls are bright white, the the accessories are the opposite. Most of the color will come from your lamps, rugs and flowers. Scandinavian design is meant to be playful and fun. Use colorful textured rugs, organic art, frames, upholstered furniture, pillow and plants to decorate. The backdrop might be white, but hues are everywhere.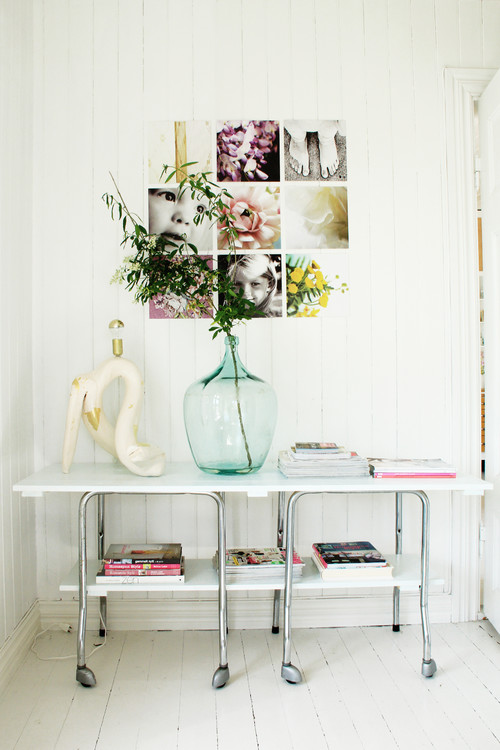 5. An Eclectic Mix of Styles
While Scandinavian design is known for clean, geometric lines, you can still add a touch of fabulous with glittery chandeliers, classic wing back accent chairs or have great artwork displayed on a huge wall for dynamics and your own personal touch. Be creative!
6.  A Fireplace is a Must
Now that you know woodwork, white paint and clever touches of color make Scandinavian design soar, don't forget about one more element that will make your Swedish decor complete – a fireplace. Let's first talk about the functionality of a fireplace. It will give off heat during the winter and keep your electric bill from sky rocketing, yet a fireplace is always a great place to gather around with your guests. It will instantly create a sitting area to cozy up to.
Save
Save
Save