Filling Information
How to Choose The Best Fill Type for Your Outdoor Cushions
As spring gets closer, we begin to think about the warm days ahead. The problem is that we may have outdoor areas of our home that need to be updated and given a bit of love after the long winter months. What better way to dress up your outdoor furniture and hardscapes than with custom cushions? There are different climates and different temperatures all over the United States. From the humidity of Florida to the dry parched air of Arizona, where your cushions live will make a difference in what type of cushion fill you will require in order to provide the look and shelf-life you want for an overall good investment.
If you are planning to put your cushions outdoors under a pergola, poolside, or any other exposed area, you will definitely want to start with an outdoor Polyfiber fill. Designer Custom Source carries a couple of options for outdoor fill that require the least amount of maintenance.
Our Standard Polyfiber is our inexpensive fill made with a special blend of non-allergic, multi-layered polyester fibers. This is an ideal choice for homeowners and clients that want their outdoor area to have a little bit of comfort, style, and color to update their outdoor furniture. Standard Polyfiber fill is designed to be non-absorbent and mildew resistant, which also allows for no saturation during a heavy downpour. Water will flow right through the cushion and drain and dry quickly for "no" to "low" maintenance.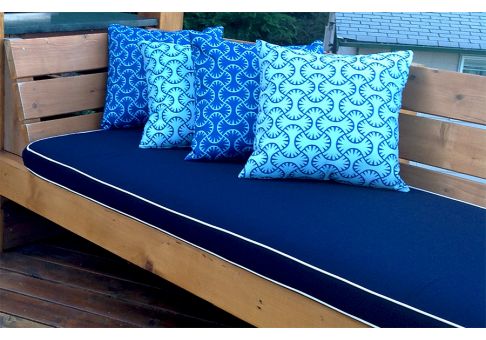 Another low-maintenance option is our Deluxe Polyfiber. This is similar to our Standard Polyfiber with the added plus of a plush polyester batting on top and bottom, which helps to create a crowned and fuller cushion. Both Standard and Deluxe Polyfiber fill are ideal for outdoor chaise lounge cushions, steamer cushions, bench cushions, or any other outdoor furniture piece.
Our Standard Foam and Deluxe Foam are the next options for your outdoor fill. These come with a higher rating in comfort and retention compared to polyfiber fill. We do recommend that you choose foam for indoor use only, although, if you are planning to create cushions less than 4 inches thick, we certainly advocate using foam in protected outdoor areas.
The difference is how the foam drains. Foam will take longer for water to drain through it, so we propose to unzip your cushion cover and turn the cushion on its side to fully drain any evidence of water or moisture. This will help fight against mold or mildew growth. The same advice goes for the Deluxe Foam, which has polyester batting on the top and bottom for a fuller and crowned look. We love Standard and Deluxe Foam fill on benches, chair seats, chaise loungers, and window seat areas.
If you are looking for the ultimate comfort in outdoor cushions, you will love our Optimal Comfort fill. This cushion fill gets a five-star rating in comfort, retention, and drainage. This gives you the sofa comfort you've been looking for. Made of fire-retardant, resilient upholstery flat style foam, plus a 1-inch memory gel swirl foam on top and bottom, with 1 oz. plush polyester batting wrap on top, bottom, and front.
This five-layer comfort delight is then enclosed in a water-resistant boxed ticking with zipper for the highest quality outdoor and indoor cushion on the market today. Since Optimal Comfort is enclosed in a weather-resistant ticking, this fill will stay dry unless there is a heavy downpour, which could saturate the cushion. When this happens, we recommend unzipping the outer cover and inner cover and laying it on its side for thorough draining. This will help fight against further mold or mildew growth. We also advocate that you choose an outdoor solution-dyed acrylic fabric such as Sunbrella or Outdura to give you a longer lasting outdoor cushion. We love Optimal Comfort on deep seating chairs, built-in custom bench seating areas, and sofa seating.
Via Designer Custom Source blog
| | |
| --- | --- |
| Your key to designer privileges... | |