Custom Bay Window Cushions
Custom Bay Window Seats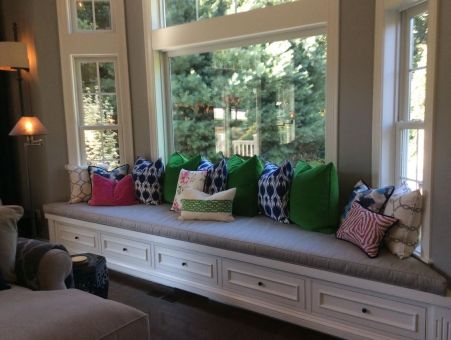 Beautiful bay windows are a home's delight because they provide a peek into the outdoors while sitting in a warm and cozy environment. Our custom bay window seat cushions will finish the look to any clients home by allowing for true customization at your fingertips. You have a choice of fabrics, welting, thickness, ties and fill options.
Our custom-made bay window cushions come with the choice of our Optimal Comfort, Deluxe and Standard. Each provide their own fill options. Our Optimal Comfort bay window cushion inner fill is made with quality foam, MicroGel Memory foam and batting, which is then placed inside a waterproof ticking; The ultimate choice in luxury for both indoor and outdoor applications. Our Deluxe bay window cushion has a CumuPlush middle wrapped with a batting for outdoors and a foam middle wrapped with batting exclusive for indoors. Both have a loft or give a crowning effect. Our standard bay window cushions have two types fill, either an indoor standard foam fill or an outdoor standard cumulous poly fiber fill. Our standard outdoor CumuPlush poly fiber fill allows water to drain through the cushion after a heavy downpour, which makes it an economical option for outdoor living spaces.
Does your bay window require a unique cushion?
If you have a bay window area that is unique in shape from what we offer online, you will need to send us a template. Our experienced workroom is able to make virtually any type of cushion but we do ask that you take accurate measurements to ensure you will get the ideal cushion for your client. At Designer Custom Source, we aim to exceed your expectations and hope you experience only the best in high quality, made in America satisfaction.