Custom Bench Cushions
Custom Bench Cushions
Designer Custom Source's custom-made bench cushions are versatile and functional pieces that add comfort and style to an otherwise vacant space. They can be placed in any area of the home, such as, mudrooms, foyers, patios and kitchen nooks. We have a broad selection of indoor and outdoor fabrics that will help bring a design aesthetic that is unique and personal. Because we custom make every bench cushion, you will get exactly what you want. When it comes to fabric choice, welting, ties, fill and thickness, we let you decide what makes sense to your clients needs.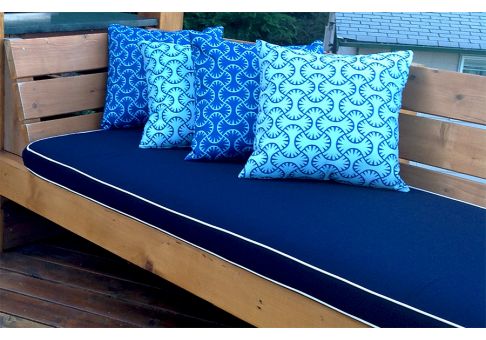 Our custom-made bench cushions come with the choice of our Optimal Comfort, Deluxe and Standard. Each provide their own fill options. Our Optimal Comfort bench cushion inner fill is made with quality foam, MicroGel Memory foam and batting, which is then placed inside a waterproof ticking; The ultimate choice in luxury for both indoor and outdoor applications. Our Deluxe bench cushion has a CumuPlush middle wrapped with a batting for outdoors and a foam middle wrapped with batting exclusive for indoors. Both have a loft or give a crowning effect. Our standard bench cushions have two types fill, either an indoor standard foam fill or an outdoor standard cumulous poly fiber fill. Our standard outdoor CumuPlush poly fiber fill allows water to drain through the cushion after a heavy downpour, which makes it an economical option for outdoor living spaces.
Does your bench require a uniquely-shaped cushion?
If you have a bench area that is unique in shape from what we offer online, you will need to send us a template. Our experienced workroom is able to make virtually any type of cushion but we do ask that you take accurate measurements to ensure you will get the ideal bench cushion for your client. At Designer Custom Source, we aim to exceed your expectations and hope you experience only the best in high quality, made in America satisfaction.
Great Ways to incorporate Bench Cushions into the Home
You can find multiple uses for bench cushions which don't necassarily have to involve a bench. Think of a chest or small window nook. Adding extra comfort from a cushion will provide another place to sit a guest or just relax in a cozy space. Try adding a bench cushion around a pool area to lay on when you are soaking up the sun. Use a bench cushion for kids to use as floor cushions when you have visitors. Or instead of a sleeping bag try a long cushion to sleep on for slumbar parties. Our bench cushions come in a variety of styles that can give you optimal support or the aesthetic you are looking for to add a pop of color to a room. Either way, your options are endless with custom bench cushions.