Custom Window Seat Cushions
Custom Window Seat Cushions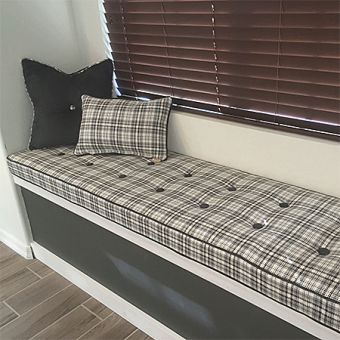 Window seat cushions always make looking out a window and soaking up the sun more stylish and comfortable. These cushions are necessary pieces that add a coziness to any window seat, bedroom nook, or breakfast area. Since most window seat cushions will be exposed to sunlight for many hours of the day, it's necessary to select fade resistant fabric to block the sun's UV rays. Fabrics like Sunbrella and Outdura are ideal for window seat cushions and come in a wide variety of colors and patterns to satisfy your client. These fabrics provide a soft hand for comfortable indoor and outdoor living.
Our designer window seat cushions are custom-made and come with the choice of four fill options. Our Optimal Comfort inner fill is made with quality MicroGel Memory foam wrapped in batting which is then placed inside a waterproof ticking. This fill is the ultimate choice in luxury for both indoor and outdoor applications. We have two types of indoor fill, either an indoor standard foam fill or a deluxe indoor fill which has a layer of one inch cumulous batting on top and bottom of our standard foam to create a crowned look. Both are ideal for inside the home. We also offer a standard outdoor CumuPlush fill which allows water to drain through the cushion after a heavy downpour or our outdoor CumuPlush fill with cumulous batting placed on the top and bottom for extra loft. Both are ideal for outdoor living spaces.
Do you have a window seat with a unique shape?
If you have a window seat area that is unique in shape from what we offer online, you will need to send us a template. Our experienced workroom is able to make virtually any type of cushion but we do ask that you take accurate measurements to ensure you will get the ideal custom window seat cushion for your client. At Designer Custom Source, we aim to exceed your expectations and hope you experience only the best in high quality, made in America satisfaction.
How to Choose the Right Cushion for Your Window Seat
Having a spot by the window seat is prime real estate in most homes. It's a great space to lounge, read a book, cuddle with pets or enjoy a cup of coffee in the morning. Adding a cushion to make it even more comfortable seems like an easy request, but after working with many customers and designers there are still concerns on how to perfectly measure a window seat space properly in order to provide the right sized cushion. Most forget cushions are soft goods which stretch, squish, fill out and bunch up when used. Choosing the right type of fill, measuring the area accurately and selecting the right fabric are all key factors in making a great fitted cushion and ultimately a good investment.
Our designer Martha Nazzaro has been working long and hard on this "Dream Room Addition" for one of her clients and needed a large window seat cushion. She is one of the few that know how soft goods work in spaces.
Here she explains what she did when she ordered from us:
"This window was 147" in the front and 96" in the back - huge! I made sure the thickness of the cushion fit just a tiny bit below the window sill...and of course I went with Optimal cushion so there would be no "puckering" which might detract from the beauty!! I also recommended to my clients that we use Sunbrella fabric due to the light pouring in." ~ Grace~full Interiors/Martha Nazzaro
---
Window sills are tricky objects to consider when you begin measuring for your bay window or window seat space. You will first need to know the area in which you wish the cushion to fit. Below is an example of a customer that wants her cushion to lay flat at the base of the crown molding. She also wants the thickness of the cushion NOT to exceed the height of the window sill, so her cushion will fit nicely under the window sill.
*We recommend you use a metal measuring tape to measure the area that you want the cushion to go.
How to Measure
This customer is first measuring the depth of the window seat area. It measures 19.5" deep.
2. Next, she will measure the width of the window seat area from left to right. She measures the space to be 83" wide.
3. Now she will measure for the thickness of the cushion. Because she wants the thickness to NOT exceed the edge of the window sill, she will have to be very accurate on what it measures. She comes up with a measurement of 3".
After you have gathered all your measurements you will have to consider the different types of fill we offer and whether or not you want welting or no welting. The reason why this is important is because a flat foam filling will fit differently from a foam plus batting fill, as will a cushion with welting and a cushion without welting. Here's why:
*Note* When the workroom creates a thickness of 4" they are constructing the cushion with a thickness measurement from Seam to Seam not the overall thickness of the crowning or loft that is formed from the fill. So in all actuality you may have a 4.5" to 5" measurement for the overall thickness when you order a Deluxe, Deluxe with buttons or Optimal Comfort fill style.
*Note* Another important factor is welting. An addition of welting will add 1/4" thickness on either side of the cushion which means your cushion just added another 1/2" overall to your cushions width and depth which may cause your cushion to hang too far over the edge, so this would be a factor to consider when deciding on your measurements.
Building your Cushion
As she begins to build her cushion in our tool she will be able to factor in all these details and measurements in order to place her order.
If you notice, she has put a thickness of 3" for a Deluxe cushion fill. This is where most people go wrong. If the height of her area from the bottom of the window seat to the window sill is 3" she would actually receive a cushion that would ultimately be TOO THICK. Why? -Because of the loft and crown that is formed. This will add any where from a 1/2" to 1 1/2" of lofting. It would be ideal for her to enter a thickness of 2". This will insure that she will compensate for the loft AND be able to fit her cushion nicely under the window sill!
Another observation is what she entered in for the depth of her cushion.
She chose right!
Because her cushion will have welting she went ahead and compensated for the 1/2 " that the welting will add, thus giving her a finished depth of 19.5", which is what she measured her space to be.
*Please note* There are some custom options that may not show on our site. No worries! Since we are a custom workroom we can make virtually any style cushion. Please give us a call and let us know the type of cushion you are looking for. We accept templates, COM fabric and trims.
High Performing Fabrics
Choosing the right fabric is just as important as having the correct measurements. We pride ourselves in offering over 800 outdoor fade resistant fabrics! Outdoor fabrics are not made from the polyester, plastic feel fabric from long ago. Outdoor fabrics have come a long way since then. Outdoor fabrics such as Sunbrella, Outdura, Para Tempotest and Al Fresco have a beautiful soft hand, are durable and look great indoors or out!