Custom Bedding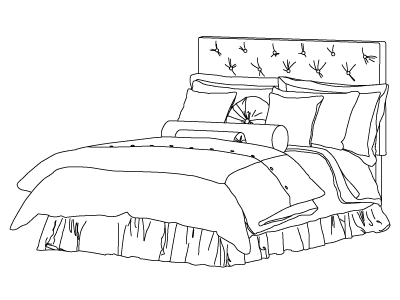 Designer Custom Source's Custom Bedding workroom can create anything you or your client desire. Our designer custom bedding was made by designers for the design trade, and is fully customizable for every taste and style. The collection includes everything from tufted headboards and quilted comforters to plush duvets and elegant bed skirts.
We offer hundreds of high-quality fabrics, but if you don't find exactly what you want you can choose to send us your COM fabric at no extra fee. Designer Custom Source's bedding workroom offers designers the ability to choose a single product or a complete set of custom bedding decor. Create the bed of your dreams with customized size, fabric and detail options for a client or commercial business.
Our bedding program was first conceived in the summer 2012, and has certainly been a labor of love for Product Development Director, Melinda Lea Merijanian, who painstakingly carved out the development of each custom bedding piece. She comments, "We are so proud to offer the realization of your dreams in our new custom bedding collection. Come relax as you browse and build your next signature bedroom retreat."