Custom Holiday Collection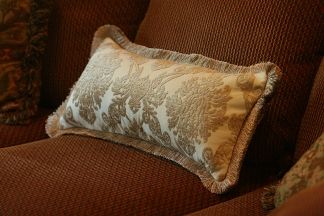 Custom Holiday Collection
Thrill your senses and delight your eyes with the First Frost home holiday decor collection. This fabric collection brings back childhood memories of chilly winter mornings, first frosts and making snow angels on a fresh blanket of snow. Bring the magic of the holiday's fireside with this color palette of icey cream and white tones. The sentiment is complete with:
A table runner in Royal Damask Cloud by Robert Allen, 18"x 80", with straight ends
A reversible placement in Robert Allen Velvet Geo Pearl, and Outline Glacier on reverse, 14"x 20"
A pillow set including an 18"x 18" corded throw pillow in Highland Taylor Microfiber Velvet Sesame; a 14"x 14" flange pillow in Robert Allen Royal Damask Cloud; and a 12"x 20" lumbar in Robert Allen Velvet Geo Pearl
A Christmas tree skirt in Robert Allen Royal Damask Cloud, 60" diameter
A pair of Christmas stockings in Highland Taylor Microfiber Velvet Sesame, 8"x 22", with a cuff in Robert Allen Royal Damask Cloud