Pillow Style Guides

Behold the power of pillows. When you think about completing an indoor and outdoor space, you think about accessories. Pillows are the quintessential pop to a design that makes a room complete. Just like an outfit is never complete without jewelry, a purse and a great pair of shoes, a room is never complete without great pillows. Pillows can add color, texture, comfort and an ambiance that welcomes you and your guests in. Let your home have even more impact with great color combinations to compliment any styled space possible. Arranging pillows, pairing pillow color combos and choosing great texture and patterns is not difficult as long as you follow a few basic rules. Whether you use a neutral or colorful palette, a lumbar or a bolster, keep in mind that balance is key. Here are some great examples of wonderful spaces that will inspire your homes to use more pillows to help complete your design for a stunning and well lived space.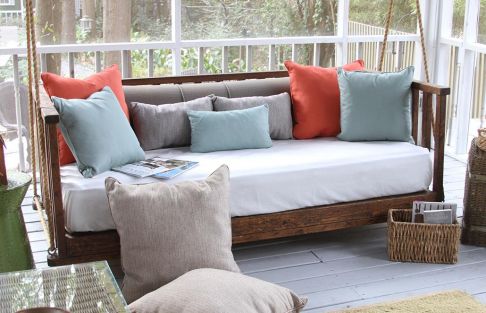 Decorating with Throw Pillows
Group Pillows by Odd or Even Numbers
Tossing a bunch of pillows on a couch and seeing what sticks is not the usual approach to decorating with pillows, but one basic rule to follow when you are using throw pillows is to group them in odd or even numbers, depending on what type of style room you have. For more modern and nontraditional rooms, use an uneven amount such as 3, 5 & 7. Asymmetrical groupings are a known designer rule when you are creating more eclectic and contemporary spaces. Use an even amount of pillows for more traditional and classic design spaces. Even numbers of pillows look more symmetrical and visually balanced because having equal number and sized throw pillows will give visual counterbalance on sofas and love seats. Be careful not to display pillows too symmetrical, this can sometimes look too contrived and forced.
Mix Different Style pillows
Choose different shapes and sizes of pillows. Whether it's a bolster, lumbar, round or square, think variety and you will see a room come alive with interest and drama. Add fringe and welting on pillows and cushions for detail. Add a round sunburst pillow to a deep seating chair for a modern look or add a basic bolster to a couch as a statement piece. Floor pillows are another option for floors and playroom areas. Extra-large toss pillows give even more seating to rooms and provide a comfy ambiance.
Mix Different Color Pillows
Selecting colors for your pillows really comes down to what you like. Most would agree that we have a favorite color or style which we can't live without. Choose pillow colors that speak to you. You may be inspired by artwork, an accent rug, or a staple furniture piece. Decide on a common accent color and repeat this throughout the area. Good design and color repeats itself and is visually more cohesive. You can go farther with lamps, candles, throw blankets and frames to further the color and interest throughout the room.
When in Doubt, Go for Three
When you're not sure how many pillow patterns to work into a room's visual space, go for three: Solid, Texture, and Pattern. This is a sure way to get the same major design appeal in spaces without going overboard in the pillow department. A massive amount of pillows, with all different looks in one area will look overwhelming to the eye. Instead, choose one solid, one texture and one pattern for a refined look. this will cover all the basics. For example, below we have chosen a gold solid pillow with sheen, a long geometric lumbar and topped it off with a fun faux fur for softness and texture. This great pillow trio gives this holiday living space a lot of style, surface and significance.
Pillow Storage
Pillows on beds or on a large beautiful sofa sectional should not be tossed on the floor when they are not being displayed. Throw pillows should be put in decorative baskets or storage bins with lids. You can set a chest behind a couch to store pillows inside, Or place them in a large basket for easy access. When you are changing your pillows out for specific holiday or event, store them in plastic containers or bags so they stay protected from dust and dirt. Remember that your throw pillows are an investment that is made to last many years.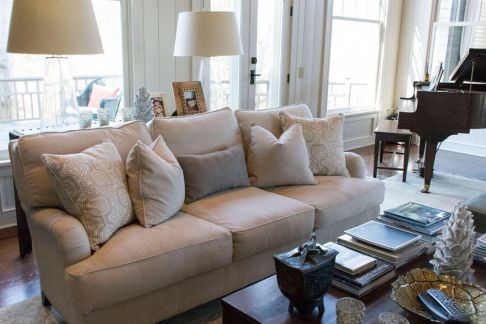 Decorating with Neutral Throw Pillows
Neutral colorways have been trend setting for quite a while. The use of neutral colors in rooms is highly sophisticated on sofas, dining chairs, draperies and seating areas. Although the lack of color may turn some people off, it is great in spaces that provide a lot of greenery, colorful paintings and great lighting. A neutral room is not hindered by too many distractions and highlights the important pieces in a room.
Texture versus Color
When you go with a neutral pallet, most importantly, think about the textures of your fabrics. Whether you use a velvet, knit, burlap or fur, these textures will provide interest and will display differently in light by giving an array of composition and unique surface to a room. You can play among the colorways of dark to lighter neutrals in order to give great depth and organic color. Interior stylings such as cottage, farmhouse, rustic and French country display a perfect neutral colorway which serves well in many homes.
Neutral plus One
A room with many neutrals may desire a punch of color, so don't be afraid to add it! Alhough bright, jeweled tone pillows may overwhelm a room, try to introduce a light and muted tone so that it will not take away from the serene, more traditional aesthetic. Add aquas, pinks, soft yellows, and earthy tones to give a pop of subtle interest.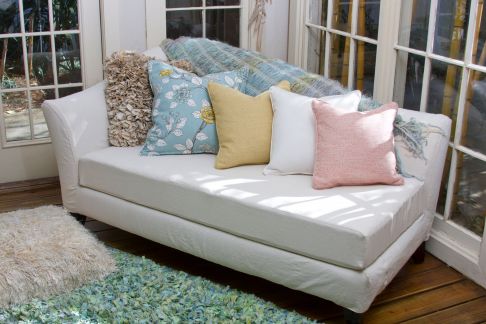 Decorating with Pastel Throw Pillows
Pastel colors are soft and light hues which can remind us of spring flowers and nurseries, as well as colors you would see in cottage and coastal decorating styles. Pastels are feminine and clean in living spaces such as bathrooms, bedrooms and kitchens. If you want to give a dark room a quick and easy makeover, try painting the walls with lighter shades, such as pale pinks, dusty blues or aqua palettes for an instant airiness and openness to rooms. These colorways are soothing and easy on the eyes yet they allow your home to be cheery and bright. Pastel fabrics on throw pillows are an easy way to add brightness to a room without busting the bank. Go for monochromatic groupings of pillows to give a more sophisticated ambiance. For example, a room filled with very light blue to darker blues gives depth and interest. Just be aware of the tone of a color.
Pastel and White Combos
White is an ideal background neutral for all kinds of colors. However, pastels just seem to fit hand in hand with the fresh and staple color of white because there is white mixed with primary colors to convert into pastel shades. White is in their make-up. Above is a comfy lounger upholstered in this sparkling white cotton twill fabric. These fun-loving pillows give a romantic and dreamy look to this quaint covered porch area. Using patterned pillows to draw out colorways is a great way to know what colors will coordinate. Add interesting textured pillows and rugs to complete a space.