Fabric Content Glossary

Acrylic
Created by DuPont in 1941, a synthetic manufactured fiber, which major properties typically include a soft hand, excellent color retention, and a woolen appearance, however it can also mimic many other fiber qualities. After the manufacture process, the long filament is cut into short lengths like wool and then spun into yarn. Once it becomes a woven fabric it is piece dyed. Acrylic has excellent strength and it is lightweight.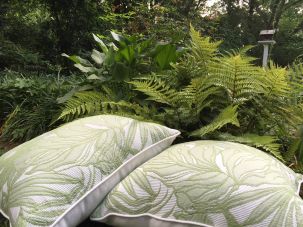 See Robert Allen Fabrics
Acrylic Solution Dyed
Solution Dying utilizes the base of Acrylic created by DuPont in 1941, with the added liquid color enhancement developed in Europe in the 1950's. A synthetic manufactured fiber, which major properties include a soft hand, excellent color retention, and a woolen appearance, however it can also mimic many other fiber qualities. During the manufacturing process, in a solution state, dye is added, thus the color is inherent throughout the solution, a fiber is extruded and the long filament is cut into short lengths, like wool and then spun into yarn. It has excellent light-fastness and strength although it is lightweight. Solution dyed acrylic is water and stain resistant, repels mold and mildew and is bleach cleanable. It also comes with a minimum 5 year, no-fade warranty, see Fabric Brands on our site for each manufacturer's specifications.
Designer Fabric Brands
See Sunbrella, Outdura, and Tempotest Fabrics
Cotton
A market commodity, and in existence since prehistoric times, cotton is a white natural fiber grown in warmer climates used to produce many types of fabrics, such as, chino, denim, corduroy, terry cloth and velvet to name a few. The fiber is spun into a yarn and becomes a soft, beautiful, breathable fabric that feels good against the skin regardless of the temperature or the humidity. Cotton absorbs moisture, it has a high luster, and is a stable fabric. Cotton is always in demand. It became affordable with the invention of the cotton gin, and is the most used natural fiber in clothing today.
See Robert Allen, Premier Prints, and Highland Taylor Fabrics
Linen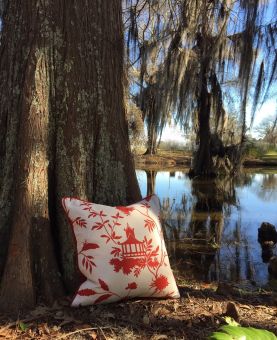 A natural cellulose fiber from the flax plant that has been around since the ancient times of B.C., and it is thought to be the oldest textile in the world. From clothing to home furnishing, linen is manufactured in different weights, and provides cool breathability for the end user. Linen is crisp to the touch, has a natural stretch, thus it wrinkles beautifully, and is stronger wet than dry. Consumers today enjoy linen in the form of damask, plain-woven, loosely-woven, sheeting and toweling. Linen slubs, or irregularities in the fabric are part of the charm associated with linen in the home furnishings market. Slubs generally indicate an expensive natural fabric. The very finest linen, however, has no slubs at all. Both provide unsurpassed beauty and are highly sought after.
See Robert Allen and Highland Taylor Fabrics
Nylon
Since 1935 this synthetic fiber was originally developed to replace silk and hemp for parachutes and other military supplies. Nylon stockings were recycled for parachutes in 1942. Nylon is created by extruding fiber through spinnerets which become thread. Other petroleum based fibers that dominate the market are polyester, acrylic and polyolefin. Nylon is consumer friendly as it is durable, dyeable, stain, water and insect resistant.
See Robert Allen and Highland Taylor Fabrics
Polyester
A British invention in 1941 that made its way to the United States via DuPont in 1945, who purchased the right to produce the cloth. Polyester uses natural and synthetic materials in the manufacturing process, making some fabrics under this umbrella naturally biodegradable. Polyester is widely used in clothing, pillows, upholstery padding and fabric. It is highly stain resistant and is blended with other fabrics to improve performance in shrinkage, strength, wrinkling, and weather resistance. The beauty of this fabric is that it can mimic natural fibers, notably, China silk.
See Robert Allen, Highland Taylor, Sunbrella, Premier Prints Fabrics
Polyester High UV
As polyester above, but with the performance enhancement for High ultraviolet (UV), which makes this fabric ideal for outdoor applications. High UV polyester is abrasion and mildew resistant, anti-bacterial and cleanable with a solution of mild soap, water and bleach.
See Al Fresco Fabrics
PVC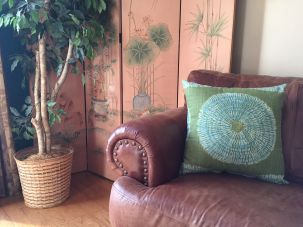 A petroleum based synthetic plastic coating when laminated to natural or synthetic fibers providing waterproofing.
See Sunbrella Fabrics
Rayon
Manufactured from wood pulp, this fabric combines a natural product via a liquid man-made spinneret process of filament production, rayon is a semi-synthetic because of this. Types of rayon include viscose, modal and Lyocell. It has some of the same comfort properties as natural fibers and can mimic silk, wool, cotton and linen. It is ideal for hot and humid climates. Follow manufacture cleaning directions, which are typically dry clean only.
See Robert Allen, Highland Taylor, Premier Prints Fabrics
Silk
Produced by the mulberry silk moth caterpillars, silk is a protein fiber that with human intervention is woven into luxurious silk fabrics. This ancient fabric dates to China and Indian BC periods. One strand of silk is typically 3-10 strands spun together for strength and durability. Silk has a smooth, soft texture, and may shrink. In a finished product, it is recommended to dry clean only, or hand washed prior to construction. It is used for upholstery, drapes, pillows, bedding and blends well with other fibers. Fabrics made from silk are dupioni, Shantung, Tussah and Charmeuse to name a few.
See Highland Taylor Fabrics
Spandex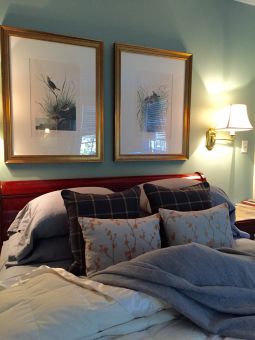 Invented in 1958, spandex revolutionized the clothing industry in 1962. Spandex is a synthetic fiber with exceptional elasticity, strength, and durability. It is made using a 5-step dry spinning method. The benefits of stretching, and quick drying make it ideal of many types of clothing and home furnishing fabric applications. Microfiber utilizes spandex to provide durability and shape retention.
See Highland Taylor
Vinyl
Is a synthetic plastic man-made material called polyvinyl chloride (PVC) which is made to mimic leather, patent leather, and exotic animal hides. It is a cost-effective alternative that with additional coatings may be utilized indoor and outdoor. Wipe clean with a damp cloth.
See Robert Allen Fabrics, J. Ennis, Futura Textiles
Viscose
See Rayon above, is a form a synthetic rayon.
See Robert Allen, Highland Taylor Fabrics
Wool
One of the most beautiful fibers and textiles in the world and, dating back to ancient times BC, wool is the fiber from sheep, goats, rabbits and camels. The hair or fur is crimped and elastic, making it the easiest natural fiber to spin, and due to the fiber structure, it provides warmth without weight. It also absorbs water almost one-third of its own weight, and it has a natural wicking ability to keep you dry. Wool is strong, soft and used all over the world for baby products, clothing and the home furnishing market. Wool can be hand washed in tepid water, but always follow the manufactures washing instructions for best results.
See Robert Allen Fabrics
References: www.Wikipedia.org
by Melinda Merijanian a 30-year textile education and appreciation
| | |
| --- | --- |
| Your key to designer privileges... | |